Happy Earth Day everyone (or should I say Earth Night)!  Just thought I would do a quick post here to share some great picks of the awesome things you can do with plarn! What's plarn you ask? It's such a great (and green!) medium for crocheting or knitting with & you're helping the environment out at the same time since it can take multiple bags to make an item!
If you need a "how to" on how to make a plarn ball you can check a great post by myrecycledbags.com!  And now, to some projects for that plarn ball you've got!
---
Earth Day Plarn Projects 2016
1. DIY Yarn Bowl
By: http://two-little-cs.blogspot.com/
2. Plarn Tote Bag
By: Repeat Crafter Me
3. Recycled Plastic Water Bottle Holder
By: MyRecycledBags.com
4. Laundry Basket Tutorial
By: newlifenewpurpose.wordpress.com
5. Plarn Satchel Style Tote Bag
By: MyRecycledBags.com
6. Plarn Dish Scrubbie
By: MyRecycledBags.com
 7.  Recycled Plastic Bag Slip On Shoes
By: MyRecycledBags.com
8. Crochet Plarn Soap Dish
By: CrochetSpot.com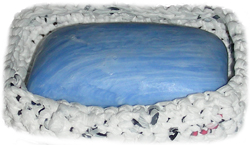 9. Crochet Sleeping Mat for shelters/charity
By: FineCraftGuild.com
10.  Crochet Plarn Plant Basket
By: mamimadeit.blogspot.ca
Happy plarning!
You can also check out my Fused Plastic Bag post from last year if you are looking for another fun way to upcycle your plastic bags!
For more fun updates on what you can do with plarn be sure to follow me on Pinterest!